- Here's a bit of obscure movie trivia. In one of my favorite movies ever, Robert Altman's
THE PLAYER
, the very funny actor-writer Buck Henry shows up as himself for a movie pitch meeting with a top-level film executive named Griffin Mill, played with vicious glee by Tim Robbins in one of his best performances. Anyway, the movie that Henry pitches - in 20 words or less - is THE GRADUATE, PART II. In this proposed
GRADUATE
sequel, he suggests that Ben and Elaine have a daughter as a result of their romance, and Mrs. Robinson is still around to harass them. Of course, when THE PLAYER came out 15 years ago, the whole "GRADUATE sequel" thing was a really good, completely absurd joke. I mean, how pointless would a sequel to THE GRADUATE actually be? This weekend, of course,
RUMOR HAS IT
, with Jennifer Aniston, Kevin Costner and Shirley MacLaine, is hitting theaters, and it's, more or less, the movie that was pitched in THE PLAYER. Of course, THE PLAYER suggested casting Dustin Hoffman, Katharine Ross, the incomparable Anne Bancroft and - as the daughter - Julia Roberts. I don't know what to think of RUMOR HAS IT. Its reviews have been pretty good. When I see the previews for it, I can only think that they've finally made a movie out of that PLAYER joke. And if you haven't seen THE PLAYER, well, then you're really missing out.
- Robert Altman, who made THE PLAYER,
NASHVILLE
and
M*A*S*H
, is maybe my all-time favorite movie director, yet I've not seen all of his movies. Most of them I either love or really like. Some of them - like
BREWSTER MCCLOUD
- I hate. A couple weeks ago, I bought
3 WOMEN
on DVD, and it's supposed to be one of his best. It's based upon a dream Altman had, and it stars Shelley Duvall and a really weird Sissy Spacek.
- Every gay man in Atlanta - except me - has seen
BROKEBACK MOUNTAIN
. Twice. I went to the movies last night to see it, and I couldn't even get into the parking lot. If another person tells me how good it is before I get to see it, I might just hurt them.
- No one has, as of yet, come into my store and asked for a CD of
THE CHRISTMAS SHOES
, and I'm thankful for that. I fucking hate that song. Someone did come in a couple weeks ago and ask for
BUTTERFLY KISSES
, and I think I made fun of them when they left. Anytime I'm at a wedding reception that plays goddamn BUTTERFLY KISSES, I have to leave the room before I start laughing.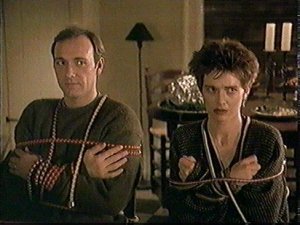 - Continuing tradition, I sang "O Holy Night" for my co-worker Quaye out in the hallway at my office yesterday. She appreciated it, even though I was a bit off-key. Other people walked by as I was doing it and asked me if I was in a choir. So that's always cool. I mentioned my personal favorite Christmas song, Joni Mitchell's "
River
," to someone yesterday, then promptly listened to it four times in my car yesterday. I love that song in all its sad, true beauty. Now it feels like Christmas to me. Maybe I'll watch Kevin Spacey and Judy Davis in
THE REF
tonight, if I can't get in to see BROKEBACK MOUNTAIN. Tis the season.
- I realize there are certain movies I have to see before I come up with my "Ten Best" list, but I'm sorta dreading actually sitting through them.
SYRIANA
is one. I just can't get into the mood for it. The other is Steven Spielberg's
MUNICH
, which just looks so damn heavy. I feel like I'd rather watch a documentary on the topic, anyway, like
ONE DAY IN SEPTEMBER
.
- On the other hand, I can't wait to see Woody Allen's thriller
MATCH POINT
, which just looks wicked and delicious. (Of course, it doesn't open in Atlanta until mid-January.) Woody apparently loves London and Scarlett Johansson now.
Watch your back, Soon-Yi!
- I wish I could watch Michael Apted's documentaries, collectively called
THE UP SERIES
, and learn something about myself. The series has a simple premise. In the '60s, a British documentary film crew interviewed this group of 7-year-olds about how their lives were and what they wanted to do when they grew up. Then, seven years later, it followed up with them to see how they'd changed and how they'd stayed the same. Then, in another seven years, they did another movie to show their progress. The last film made, thus far, is
42 UP
, which shows how the kids are coping with middle age. The question of the series is apparently this: If someone had met you when you were 7 or 14, would they have found hints of who you'd become? Who were you, and who are you - and what was the journey between?
(The picture above this is some girls from the movie at 14. The picture below is the same girls at 42.)
- Finally, I just want to thank all of you who've read me once, twice or regularly. Thanks to those who consider reading this list a 'Thing to Do.' (Yeah, that's me being hokey, Lupo.)
THIS WEEK'S QUESTION:
What are your holiday plans? What are your favorite traditions?