10.
BEE SEASON
. On the surface, this looks like it's a movie about spelling, but that's about as accurate as calling "Charlie's Angels" a TV show about law enforcement. BEE SEASON, directed by David Siegel and Scott McGehee, is about how four members of a Jewish family individually attempt to "touch" God and how these actions rip them apart and then bring them together. Richard Gere gives a career-high performance as Saul Naumann, the patriarch of the family. Saul's a professor of religion who, through studies of mysticism, attempts to reach God through his achievements and, in some ways, his ego. At the film's opening, he's so preoccupied with his work that he essentially ignores his family. His wife Miriam (Juliette Binoche) feels disconnected from Saul, and her life contains secrets that she doesn't let anyone else know. Their son Aaron, played by Max Minghella, tries to seek out God through alternate religions almost as a way to gain his father's attention. Their 11-year-old daughter Eliza, meanwhile, is a genuine mystic, something that's discovered when she wins her class spelling bee. Everyone else in her family is trying to discover the truth about God, but, to Eliza, God just is. She feels Him and senses Him in everything around her. When she spells, she sees God in the words and suddenly the letters just appear in her mind. Young actress Flora Cross plays Eliza, and her remarkable performance holds the entire film together. The film addresses big philosophical ideas bravely, making points relatable. It takes concepts of faith and translates them visually. And, aside from all that, the film has a compelling, complicated story that's filled with twists and surprises. This movie came and went from theaters with very little buzz, which is a shame. It's one of the most thought-provoking films of the year.
9.
MURDERBALL
. This is a sports movie, maybe one of the best sports movies I've ever seen in my life because it manages to tell a completely original story while following the conventions of the typical "Will our team win the championship?" drama. Because it is a documentary about violent, full-contact indoor rugby between paralyzed men in armored wheelchairs, of course, MURDERBALL had trouble finding much of an audience this summer, despite good reviews, and that is a real shame. While building excitement as the United States team goes up against its bitter Canadian rival for the Paralympics gold medal in Athens, the film also shows us the stories of several team members, telling how they came to be paralyzed and how they deal with their paralysis day-to-day. The stories aren't always sympathetic, and the whole film isn't designed to tug at your heartstrings. Instead, you get frank, occasionally hilarious stories from the guys about sex, women, alcohol, bar fights, tattoos and a love for the sport. Beyond that, the film also addresses how a man with no hands can hold a slice of pizza. The film even has great characters, giving us heroes like USA team captain Mark Zupan and a villain named Joe Soares, a former member of the USA team who now coaches the evil Canadians and ignores his own awkward, adolescent son. Given the oddness of the film's topic, a lot of people may be reluctant to try this movie, but this documentary was the most brazenly fun film I saw all year.
8.
CAPOTE
. Philip Seymour Hoffman's performance as Truman Capote in this film is amazing, but the film itself is just as interesting. Its story focuses on Capote from when he first learns of the Clutter murders to the publication of his book about them and their killers , IN COLD BLOOD. It shows him constantly at odds with himself, negotiating morally over how to deal with the real people involved in the crime. For the book to be good, Capote knows that he has to get close to everyone involved. Thus, he tries to balance a personal relationship with the killers, particularly Perry Smith, while also hoping the state will execute them so that his book has a true ending. Capote essentially drives himself mad trying to compromise being an impartial journalist and a sympathetic human being, but watching his descent is fascinating. As he continues writing IN COLD BLOOD, the movie shows us a contrast to his struggle, the rise in fame of Capote's childhood friend Harper Lee, played sharply by Catherine Keener. At times, the film is funny, uncompromisingly dark and always fascinating.
7.
THE CONSTANT GARDENER
. With his sprawling, thoroughly amazing Brazilian gangland history CITY OF GOD, director Fernando Meirelles showed viewers in the U.S. that he knew how to make a damn good movie. With this complicated thriller, Meirelles "went Hollywood," meaning bigger stars and bigger budget, but he didn't abandon his knack for clear storytelling, beautiful visuals and his ability to create a setting that's exotic yet filled with danger. The film, based upon a John Le Carre novel, centers on a stuffy, boring British official working in Kenya named Justin Quayle, played by Ralph Fiennes. At the film's beginning, Quayle's pregnant, activist wife Tessa is killed by a Kenyan roadside, and it's suggested that a friend killed her in a crime of passion. Quayle, suspecting he didn't actually know Tessa at all, goes back over his memories of their lightning-quick courtship and marriage and through all of her things in an attempt to discover who she was and what really happened to her. Rachel Weisz gives her best performance to date as Tessa. Though the murder is key to the plot, the real mystery that Quayle tries to solve is Tessa herself, and Weisz is able to play her in flashbacks as a sometimes tender, sometimes volatile, thoroughly passionate woman whose motives are always suspect. THE CONSTANT GARDENER succeeds at what other films this year, like THE INTERPRETER, tried and failed. The film manages to be suspenseful, romantic and political all at once.
6.
JUNEBUG
. A "Southern family" movie that actually feels like it's populated with real people and not zany caricatures with fake accents, JUNEBUG allows you to settle in with its core family, feel their awkwardness as they try to know one another again and watch as they cope through their problems without ever completely addressing that the problems are even there. The movie's like life in that way, alternating between being funny and sad while always feeling authentic. Though it features a "city couple" coming home to Southern roots, the movie doesn't pick sides or mock anyone. It finds everyone's flaws and yet manages to contain a lot of heart. All of the performances in the film are strong, from Celia Weston, Embeth Davidtz and Alessandro Nivola to Benjamin McKenzie of "The O.C.", for the film has the best cast of the year. But the breakout performance of the year, one that deserves serious awards attention, comes from essentially unknown actress Amy Adams. She infuses her character Ashley, who is really, really pregnant and secretly upset over her marriage, with such spunk, charm and life that she essentially picks up the movie and carries it. She provides the film's best laughs, its emotional center and the key to its success. JUNEBUG is a charming, heartbreaking movie, one that deserves an audience.
5.
PRIDE AND PREJUDICE
. Of all the movies on my Top 10 list, this adaptation of Jane Austen's classic was the one I was the most reluctant to include because it's light and airy, it's a story that I've seen done before and because I knew a lot of Austen fans don't like it because it takes liberties with her apparently sacred text. But then I thought about the movie itself and how I felt swept up in it while it played in front of me. This new PRIDE AND PREJUDICE is a thoroughly engaging, lushly romantic time at the movies, presenting us with two brilliant, headstrong characters who are too stubborn to admit that they love each other. In this year of surprisingly strong performances that seem to come out-of-nowhere, Keira Knightley achieves the nearly impossible by making the role of Elizabeth Bennet entirely her own. By minimizing every part of the story that didn't deal directly with Elizabeth, director Joe Wright and screenwriter Deborah Moggach have created a swift, fun adaptation of the work that just keeps building momentum. It's thoroughly charming.
4.
A HISTORY OF VIOLENCE
. The opening minutes of David Cronenberg's film are horrifying, even though the viewer actually sees very little happen onscreen. Two dangerous looking men exit their hotel room, get into their vintage convertible and then creep in it very, very slowly toward the hotel's main office. One of them gets out of the car, goes inside to settle the account, and we wait with the driver outside the office as he gets anxious and a little panicked. Because we've seen the title and because we know what kind of movie to expect from Cronenberg, the whole scene carries an undercurrent of dread. We just wait for the moment of shock, the moment of blood, and Cronenberg relishes in the wait. The opening scene is indicative of the entire film. It builds up long moments of calm so well that viewers are on edge, waiting for the explosion. Everything about main character Tom Stall's life, even his family name, seems to suggest inertia and peace. He has a cozy, happy family. He runs a friendly hometown diner. When a moment of violence interrupts all that, though, Stall's entire history comes into doubt, and the film takes shape as a really bloody, adult drama. Even though the film has thrills, it's about the secret of Tom Stall and how his family comes to cope with that. Though the setting is intentionally idyllic, Viggo Mortensen and Maria Bello invest their scenes of marriage with depth and meaning, showing how a real couple might cope with such startling change. The film, actually based on a graphic novel, also features magnificent turns from Ed Harris and William Hurt as colorful villains.
3.
BROKEBACK MOUNTAIN
. Yes, Ang Lee's love story is a great movie. It's a heartbreaking, visually stunning Western. It's really well acted, particularly by Heath Ledger, Jake Gyllenhaal and Michelle Williams, brilliantly written, original and incredibly moving. Most critics have acknowledged this. But what makes BROKEBACK MOUNTAIN such a revelation is because it's a gay movie. That's what makes the film important. That's where it breaks new ground. That's why it matters. A friend of mine says that the only reason the film is generating so much buzz is because it's gay, that if it were a straight Western romance it wouldn't garner attention. I told him he was right, but I told him it was because his "straight Western romance" had already been made. Many people have commented that the film's theme is universal, applicable to all audiences. Sheep herders Jack and Ennis find themselves in love in 1963 and don't have a context with which to deal with those feelings. Those who speak of a "universal theme" say that BROKEBACK MOUNTAIN is about a romance that its lovers cannot deny yet cannot make work. This is all true, but I think it's unfair to the movie to say that it's really about "everyone." I am a gay man, and I couldn't divorce myself from that while watching this movie. Part of the reason I liked it is because I felt, while it was happening, like it belonged to me and spoke for me as a homosexual. I felt its impact, its originality. I wanted to nurture it and tell other people about it. I wanted to learn from it, and I wanted others to see it and learn. It's a story that I've been waiting for, even though I didn't know it. The documentary THE CELLULOID CLOSET, released several years ago, showed us Hollywood's history of how it subtly hid yet depicted homosexuality. If gay people wanted to see gay stories, they had to go into straight movies and "decode" the hidden gay themes. With BROKEBACK MOUNTAIN, gay people are, for once, not the ones who have to dig in order to relate to the film's "universal" message. This is our movie, and it's a great one, a cause for celebration.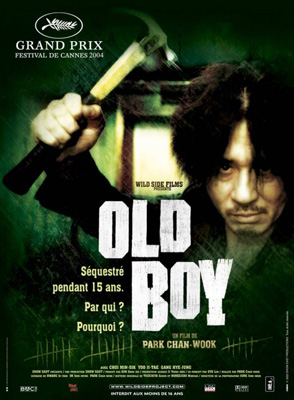 2.
OLDBOY
. A drunken loser of a man named Oh Dae-Su is abducted without warning in the opening moments of this Korean thriller and imprisoned by unknown captors in a sealed apartment for 15 years. His captors feed him, provide him with television and occasionally drug him. Then, they let him watch news footage of his wife's murder and let him learn that he's the chief suspect because authorities don't know where he is and no one's seen him. His captors are so thorough with their punishment that they even cure him each time Oh Dae-Su, driven mad without human contact, attempts suicide. Oh Dae-Su's captors provide everything for him to remain alive – except they never let him know why he's being punished. Revenge becomes his singular focus and motivation. Oh Dae-Su makes a list of his enemies, trying to figure out what he's done to deserve this fate, and his list is long. Oh Dae-Su vows that, if he ever manages to break out of his prison, he will kill the ones who essentially robbed him of his life. Then, one day without warning, his captors release him. With vengeance as his sole focus, Oh Dae-Su, armed with a hammer and with the fighting skills he learned from watching television, seeks out who imprisoned him. More importantly, he wants to know why. And with that, OLDBOY sets up its creepy, violent, twisted revenge plot, which is filled with more jaw-dropping moments than anything else I saw this year. By the time Oh Dae-Su has his answers in OLDBOY, viewers should be both satisfied and stunned.
1.
THE BEST OF YOUTH
. This Italian film is a masterpiece, one of the greatest works I've ever seen in my life. I'm glad I invested myself in the film when it was played in two parts at a local theater this summer. Director Marco Tullio Giordana's epic is six hours long, but attending the film was an incredibly moving and special experience. It's the story of two very different brothers, Nicola and Matteo, and how their family coped with the last 40 years of social, personal and political upheaval in Italy. The lead actors, Luigi Lo Cascio and Alessio Boni, each give powerful and believeable performances as their characters mature over 40 years. The scope of this film's story is gigantic, filled with fascinating, well-defined characters, and it never steps wrong. It has marvelous actors, a great script and beautiful cinematography. Most of my favorite movies this year featured some big quest or journey, an attempt to discover something new or find a way to grow, and THE BEST OF YOUTH featured the grandest journeys, the most interesting people, the most beautiful sites, the deepest tragedies and the most fulfilling discoveries. The act of going to the theater to see it – making two trips in two weeks - became an endeavor, and the movie rewards those who invest their time in it. This is 2005's best film.