- This week, I took three nights to watch my new DVD copy of
MY FAIR LADY
, which allowed me to contemplate it in pieces and basque more easily in the fun of the whole thing. Last night, I finished the movie and then indulged in the second disc of special features, which were surprising. The best special feature may have been scenes from the movie rescored with Audrey Hepburn's actual singing tracks. (In the movie, her singing is done by Marni Nixon, who also provided ghost vocals for Natalie Wood in WEST SIDE STORY and Deborah Kerr in THE KING AND I.) To me, Hepburn's voice sounded a little too scratchy and unpolished, even though Hepburn reportedly practiced heavily and wanted to sing, and I'm glad they didn't use her versions. Another special feature shows an interviewer trying to badger Hepburn and Rex Harrison, both European, into badmouthing their own countries and their past films. The movie's still great, and the features were surprising. All in all, the DVD rocked.
- My friend Black told me this week that he'd purchased a really good book, and I asked him what it was. Then, he told me that he'd read 40 pages of it and really liked it thus far, and I asked him again what it was. Then, he told me that it featured seven interconnected stories, and the actions of one story fuel another. The entire book follows this chain reaction, starting with a story of two people involving something small and leading to something disastrous. He told me the book was called
SEVEN TYPES OF AMBIGUITY
by Elliot Perlman, and that's when I told him that I'd bought that book, too, but hadn't started it yet. Of course, Black's recommendation to me then caused me to pick the book up again, starting a chain reaction ...
-
TRISTAN & ISOLDE
hits theaters this weekend, and it looks pretty but overwrought. But the reviews have been awful. Of course, the film is made by Kevin Reynolds, the director of
ROBIN HOOD: PRINCE OF THIEVES
and
WATERWORLD
, so it may very well be a disaster. But all the ads show James Franco with no shirt on, having sex with a woman by candlelight. For some reason, that makes me curious about it. Of course, the James Franco shirtless factor will probably lure me to
ANNAPOLIS
, as well, when it's released, and I'm not sure why. If only
FREAKS AND GEEKS
were still on the air, then I would be able to indulge in James Franco love without shame.
-
GILEAD
, the Pulitzer Prize-winning novel from Marilynne Robinson, came out in paperback this week. It's the story of this old, dying minister who's writing a letter to the infant son that he'll never see grow up, telling him about his life. It was Robinson's first fiction book in over 20 years, and friends who read it told me it was a masterpiece.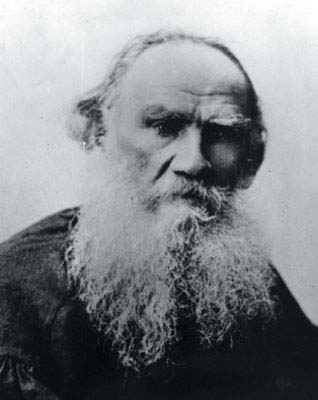 - Speaking of masterpieces, a new translation of Leo Tolstoy's epic
WAR AND PEACE
, noted as the greatest novel ever written, is generating some buzz and "controversy" in book circles. I'm not entirely sure what the controversy regards, but something tells me that this new translation might bring a lot of new readers to WAR AND PEACE, which I've not read. Since a new translation of Tolstoy's
ANNA KARENINA
a couple years ago garnered Oprah's attention and put it on the bestseller lists, maybe it's time we all turned our attention to WAR AND PEACE. I mean, it's just a book, right? It shouldn't be
that
intimidating. There's got to be something about it that's worth reading. I mean, it's a classic for a reason, right? I've never been able to tackle Russian literature, and I think it reveals a flaw in my character that I should fix. There are too many "important" books I should've read already.
- Anyway, Queen Latifah's new movie
LAST HOLIDAY
looks light, fun and sweet. It probably has the cinematic merit of junk food, even though it's directed by Wayne Wang, of all people. I usually like Latifah even when her movies aren't very good, so I may see this fluff over the weekend if I feel like doing something mindless. Of course, it's about a woman who's afraid to take any risks until she finds out that she only has a limited time left to live and decides to do everything she's ever dreamed.
Meanwhile, I could use the hours I spend on this movie to, um, start the Great American Novel or attempt another short story or clean my apartment or do something more substantial with my life, but, hey, I'm so much better at wasting my time ...
Hey, that puts a question in mind, reminiscent of
that Tim McGraw song
.
THIS WEEK'S QUESTION:
What would you do with your life right now if you found out that you only had six months to live? What would you do if you weren't afraid of the risks?