Even though that Sugar Bowl debacle never even happened, according to
some friends
,
my alma mater's
football season has ended for the year. Kyle, a good, eloquent friend from college who is the biggest, smartest Bulldogs fan I know and a brother in my literary society, still devotes an entire blog to the sport. This week, he happened upon my blog and noticed that I didn't link him proper, so, in the middle of some post that evoked Mark Richt, Jessica Simpson, Burt Reynolds, former and current Supreme Court justices Samuel Alito, Sandra Day O'Connor, Antonin Scalia and
my friend Doug
, Kyle mentioned openly that there was no godly reason why his football blog shouldn't have a link here. He was right.
To his credit,
Kyle on Football
is a very good blog, one that shall be linked here henceforth. Kyle himself, coincidentally, is a very good man.
Our friend Black, also in the literary society, alerted me to the mention yesterday. And then Black offered me good money to call Kyle gay, even though Kyle is a happily married heterosexual man with a growing son. In fact, Black told me to call Kyle the gayest man I know. (The fact that
the gayest man I actually know is Black,
who is 32 and perpetually unmarried, apparently makes no difference, but oh well ...)
So, Black, I said it. Send me my money now.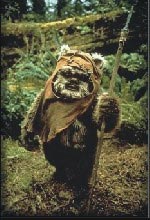 Another reason to like Kyle, by the way, is that he once wrote this detailed, eloquent argument about
why the Care Bears would not be easily defeated in a battle to the death with Ewoks.